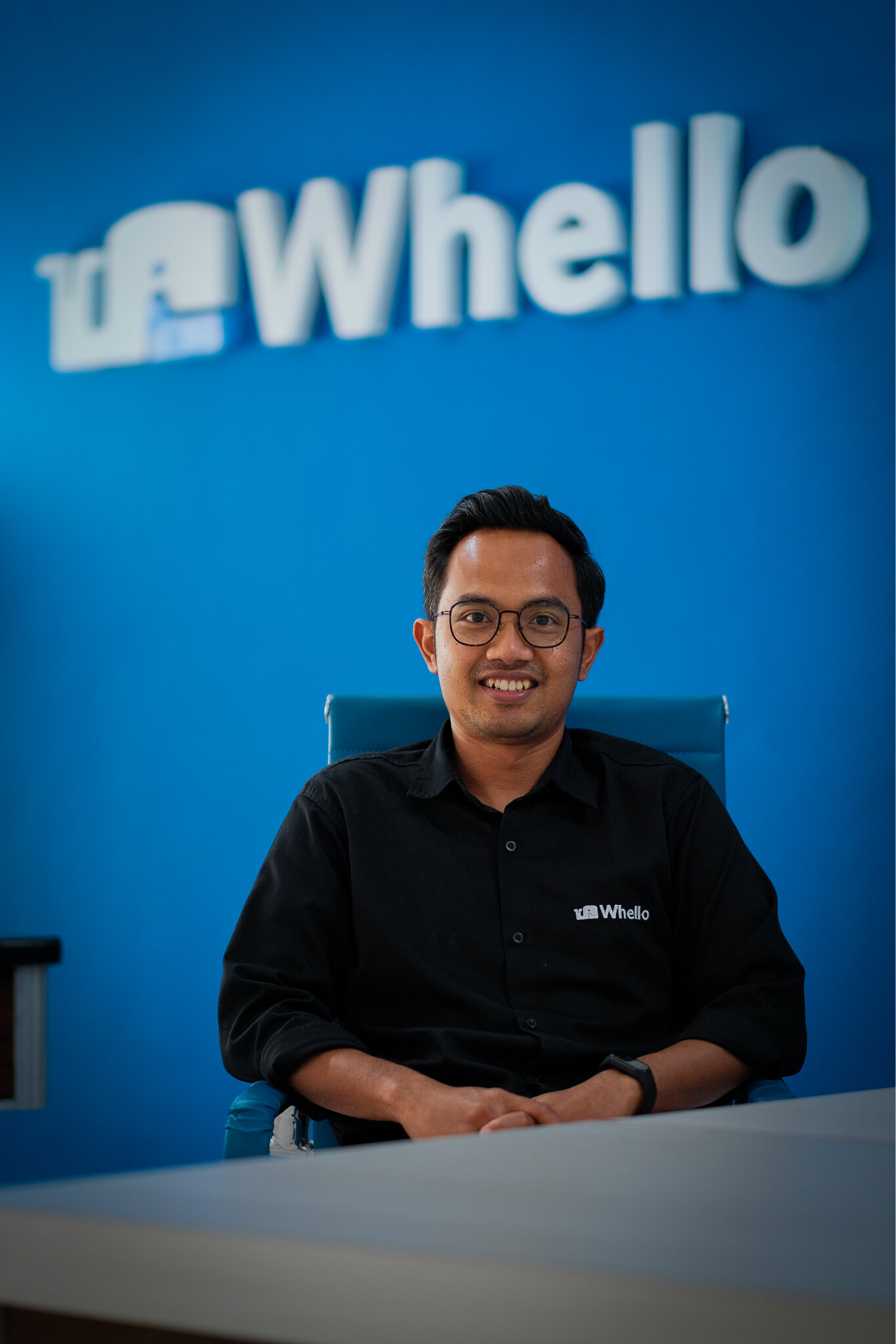 SEO Services
Boost Website's Ranking
in Google
The more exposure. The more targeted traffic. The more customers. With any goals come to mind, we will co-create a tailored SEO strategy that fits your business like a glove. Benefits of co-creating with Whello:
Site audit and optimizations
High-quality content
Keyword research and rank Ttacking
Analytics and conversion growth
Whello SEO Services
Result-oriented SEO strategy designed for growth
Let's grow your website to be the brightest among your competitors. With our data-driven methodology, white-hat SEO techniques, in-depth research, a killer content marketing, and a cutting-edge outreach strategy, in order to acquire a high-quality backlinks.
All of the techniques, dedicated to your success. Not only gaining traffic, but gain more targeted traffic, the right traffic for your business.
Whello SEO Clients
Take a look at our clients first
Using finely tuned SEO strategies and techniques, we have helped many of our esteemed clients enhanced their online presence in Google


Pricing
SEO Services Packages
Search engine algorithm is an ever-evolving discipline. Putting a long-term investment in SEO Services tailored to your business' needs is the way to go. Not only striving for the visibility and Google ranking, our SEO targets a higher quality leads and fortifies your website's customers' experience.
For starter
Basic
A flexible solution for long term SEO growth – perfect for small businesses & startups.
5 IDR million / month
Paket Termasuk
Popular
For businesses
Pro
For businesses that are ready for the best SEO implementation, reach a wide market, measurable & dominate results.
12 IDR million / month
Paket Termasuk
Untuk companies
Premium
For companies that want to move fast, dominate results, and outperform the competition.
30 IDR million / month
Paket Termasuk
Not sure on which package to choose?
Why Do I Need
An SEO Services from Whello?
One of the main SEO goals is the organic traffic. Yet in Whello, we value not only gaining organic traffic, but gain more targeted traffic, the right traffic for your business.
Using cutting edge tools and result-oriented strategy, each tactics are done ethically following Google's policy. Our Google-accredited specialists are more than ready to co-create and grow your business and produce remarkable SEO result.
Benefits of Using Whello All-in-one SEO™ 
Audience and Market Analysis
Competitor Analysis
Keyword Analysis
Keyword Tracking*
Site Audit
Optimize Website Structure
Fix On-page SEO Issues
Optimize Tracking with Google Tag Manager
Monthly SEO Planning
Monthly Article*
Best Cornerstone Content
Optimize Internal Linking
Seeking Backlink from Competitor
A backlink from High Authority Website
Disavow Bad Backlinks
Monthly Advanced Reporting with Google Data Studio
Monthly SEO Consultation Session
*Keyword and article quantities are subject to each package specifications.
SEO or Search Engine Optimization is a technique in optimizing so that a website gets a top ranking in search engines.
By optimizing your website using SEO techniques, your website has bigger chance to get more organic traffic and becoming Google's #1 ranking. Increased traffic means increased leads, and potentially increased revenue.
Our SEO Specialist team always implement White-Hat SEO in adherence to Google's guidelines.
According to the chosen package, Whello will optimize your website. You will receive a monthly report as well as a special quarterly report. You can also get in touch with our SEO specialist directly during business hours if you have an urgent question.
The number of keywords are according to the package chosen. For example, if you take the Pro package, then we will optimize 10 main keywords (short tail and long tail keywords). For the keyword list, we will help analyze and choose according to your needs. But the decision remains with you, whether you will choose keywords from us, or if you already have a choice of keywords, we will happily optimize them too.
Of course. In addition to having innovative and experienced SEO specialists, Whello also uses professional SEO tools. Such as KWFinder, SEMrush, Ahrefs, and others. So that the work we do is truly measurable and efficient.
YES, there is! If within 12 months, you see no improvement, we will provide free SEO services for the next 3 – 12 months depending on the package chosen.
There are many factors to determine when your website will be on page Google's first page. Such as the keyword difficulty, competition with your competitors, and the current SEO conditions of your website. But generally the results of SEO have started to be seen in the 6th month to the 12th month.
SEO requires some time for a website to rank on the first page organically. If you want to appear on the first page quickly, you can consider advertising on Google. Read more here about Whello Google Ads Services.
Of course, you can. Whello SEO Services packages are flexible to choose according to your needs.
Get in touch with us
Fancy a discussion via Google Meet or Zoom Meeting? We are here for you.
Book an appointment that suits your schedule.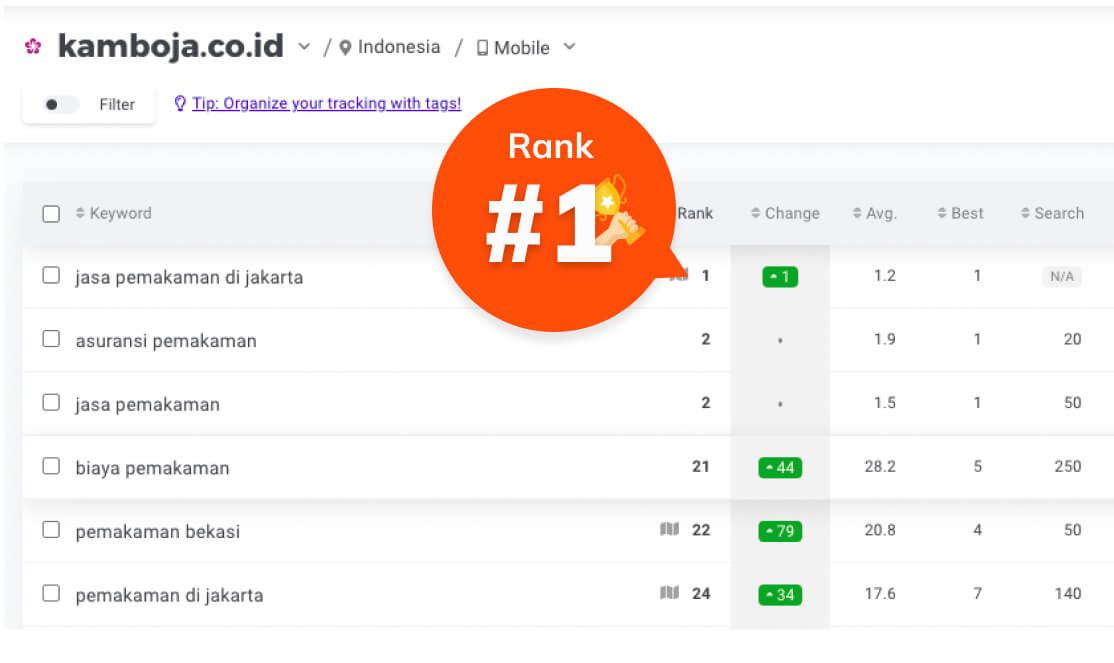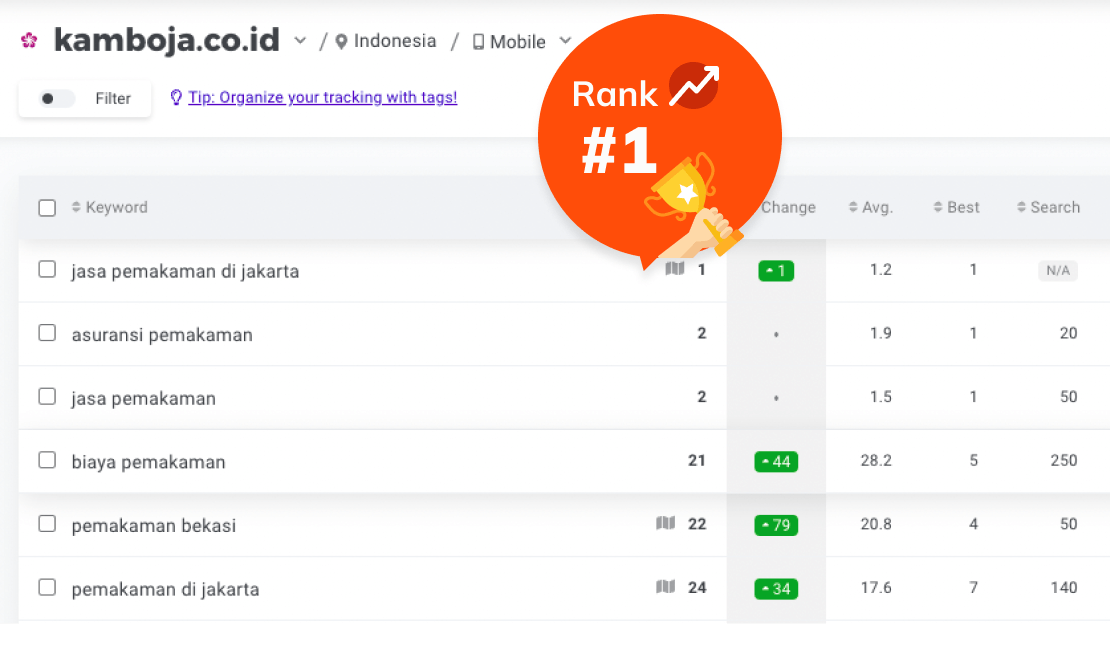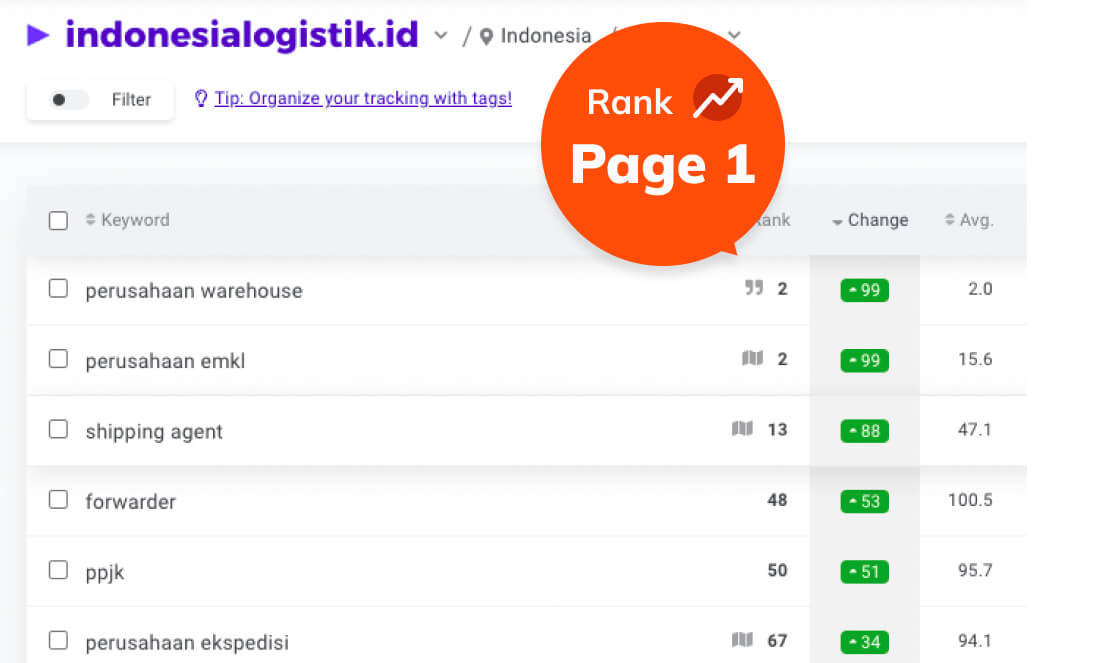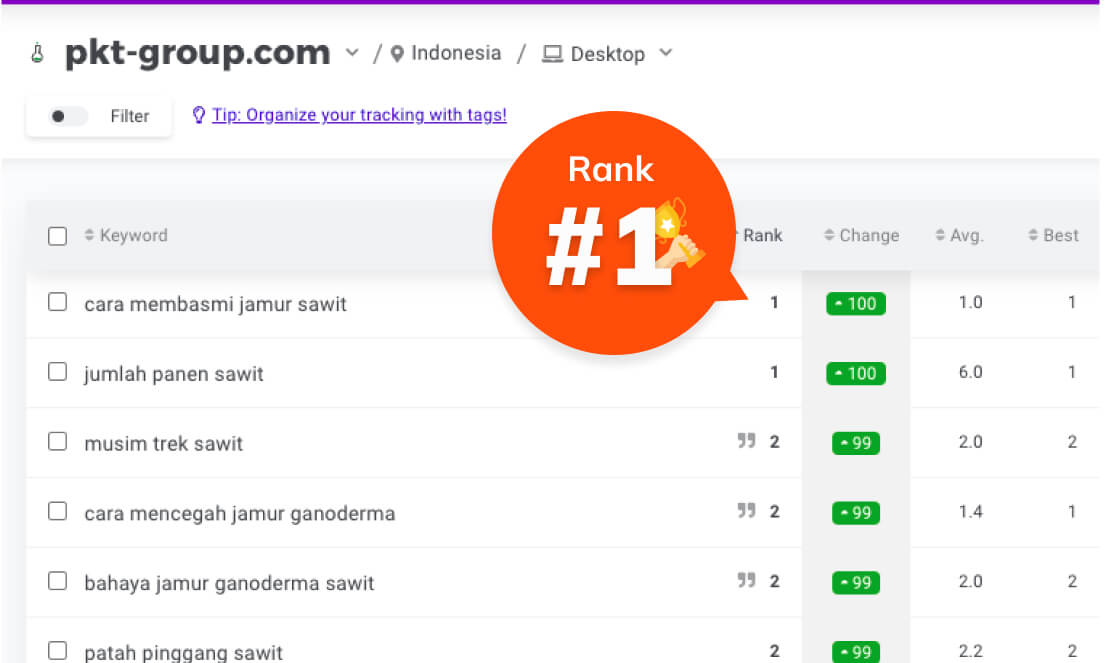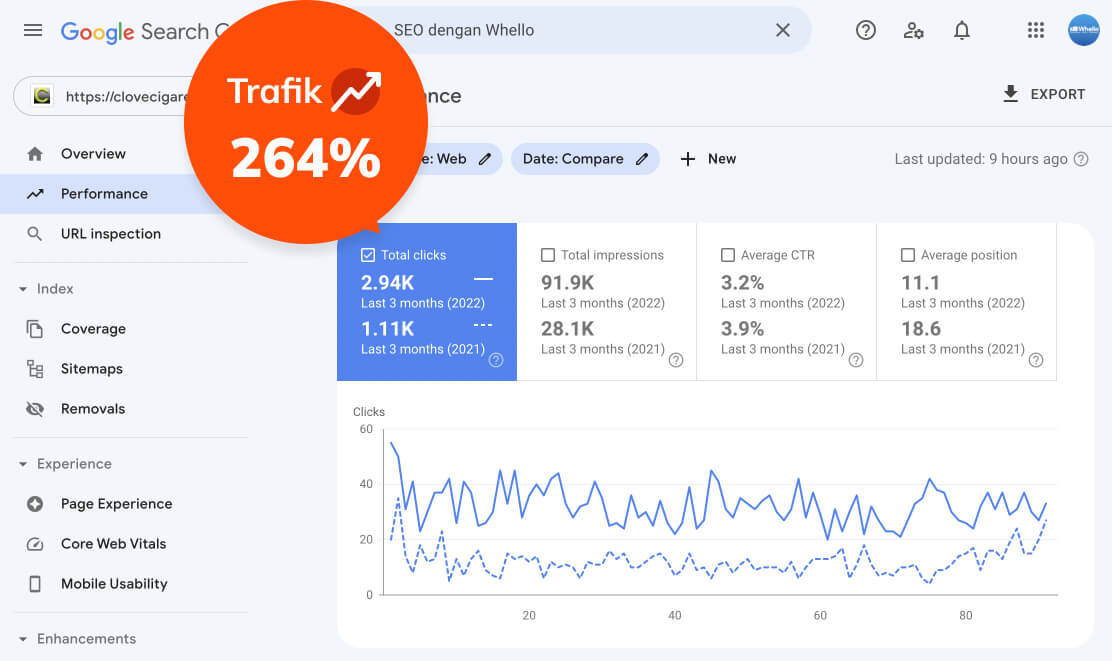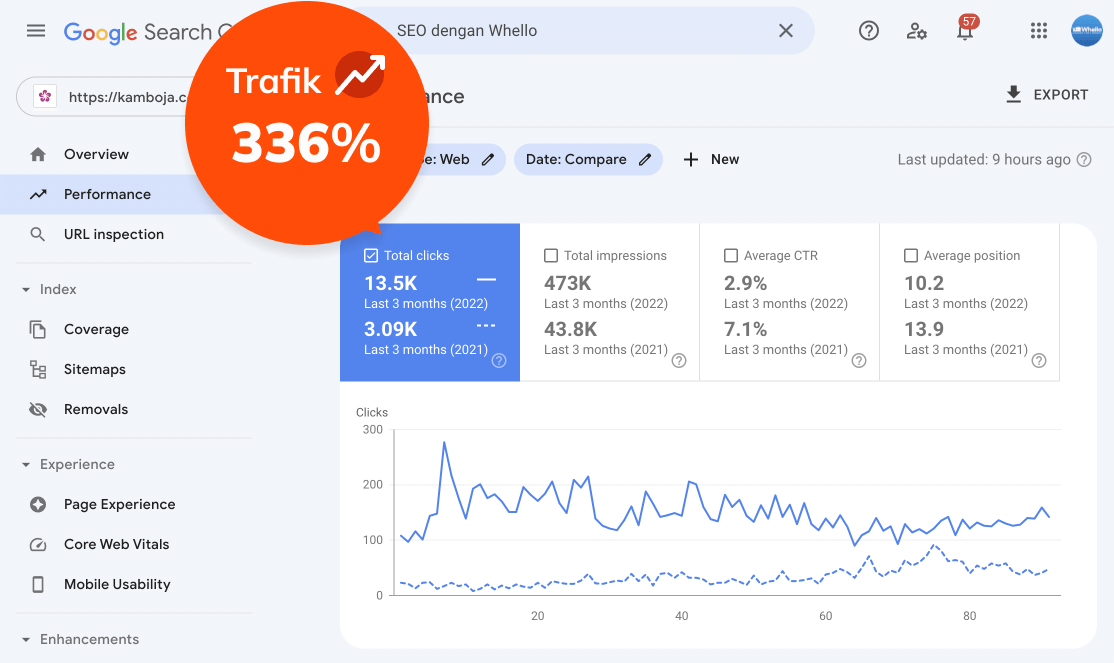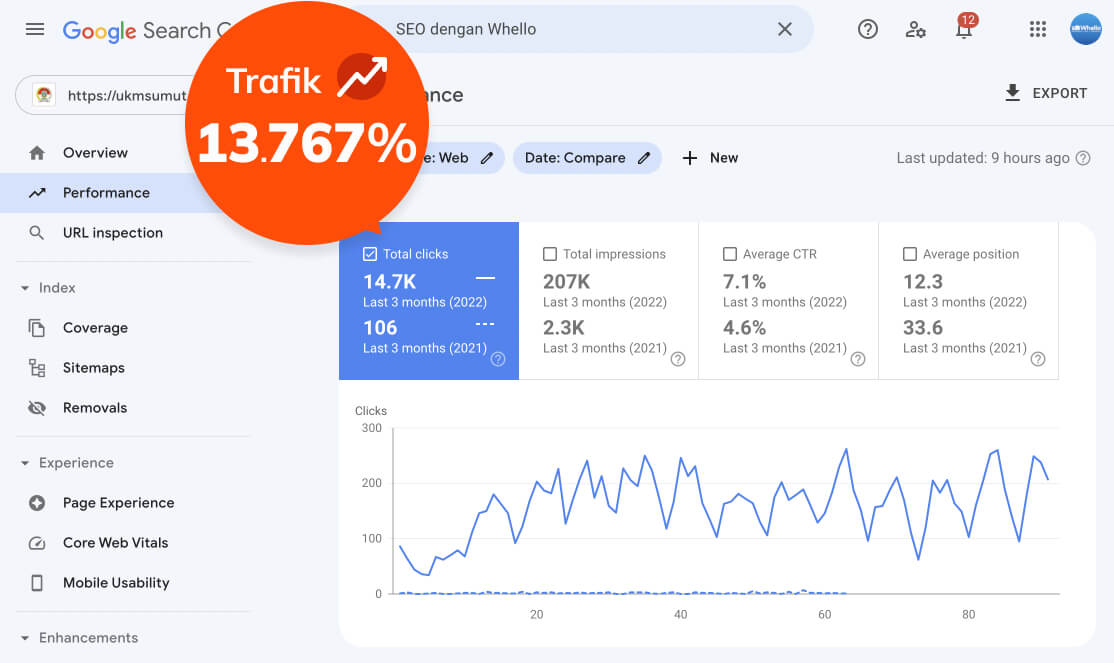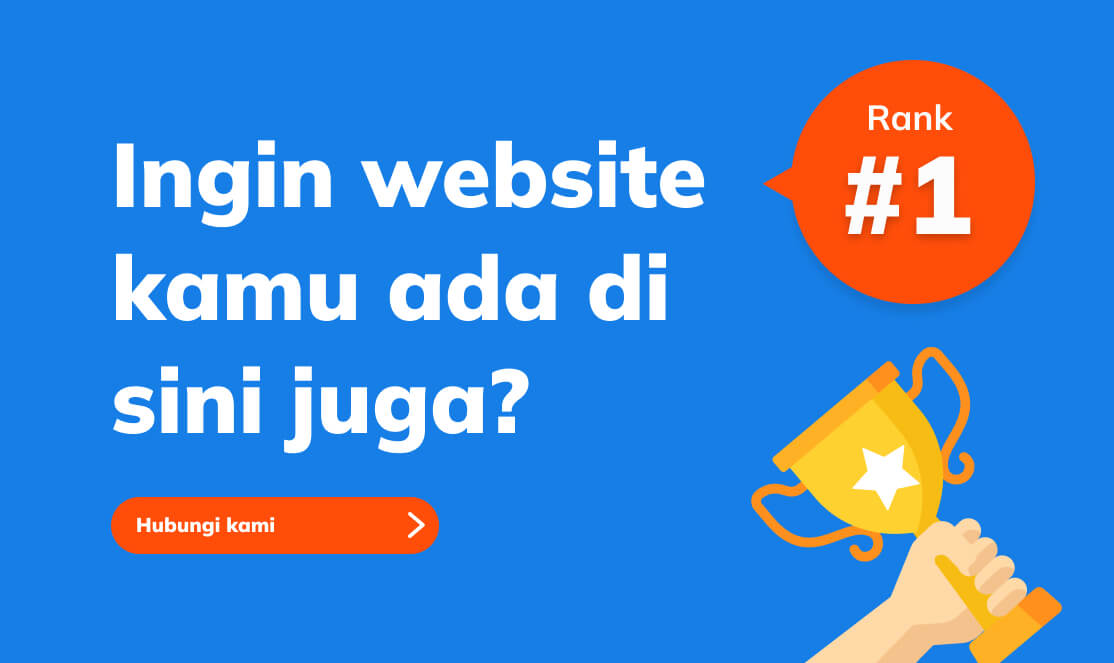 SEO Services
What are the results of Whello SEO Services?
Consists of solid and innovative digital marketing team, Whello ensures your business will grow while co-creating with Whello! Don't just take our word for it. Let's take a look at this screenshot, you can see the progress of one of Whello's clients over the last 1 year.
High organic traffic growth and #1 ranked keywords! So, when can Whello help your business grow?
Our Clients Rate
Us with:
"Whello have played both a large and incredibly positive role in the success of our company's online ventures. Unlike other experiences in the past, their presentation, communication and reliability, in addition to meeting crucial deadlines, has always exceeded our company's expectations."
"Kami menggunakan jasa website development dan SEO. Sangat puas dengan jasa yang diberikan dari awal hingga akhir. Merasa ter-personalisasi dengan kebutuhan kami dan selalu menawarkan respon/tanggapan/solusi yang cepat. SEO kami jd nomor 1 berkat guide dari Whello!"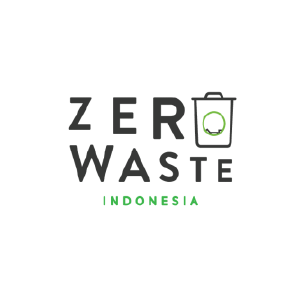 "Whello membantu perkembangan bisnis kami selama 12 bulan terakhir, berawal dari problem web kami hilang dari SERP google. Kemudian dalam 3 bulan, problem ini di atasi. semoga Whello makin sukses. GBU."